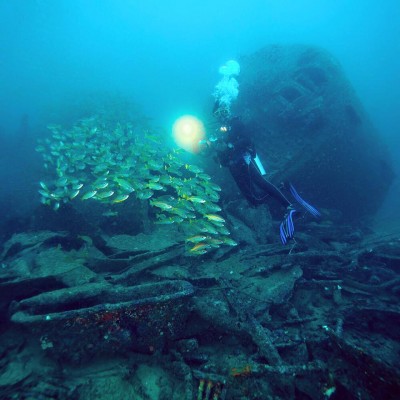 Underwater photography is a highly specialized & complex form of photography requiring custom equipment and special training. Once mastered, it can open up an entire new universe of possibilities for amateur or professional photographers. They can go on to capture the living beauty of the ocean, its diverse wildlife, corals, shipwrecks & other wonders – after all the ocean covers two-thirds of our planet. Underwater photography is also used for unique fashion shoots or underwater action sequences in film.
With this in mind, the Infiniti live-aboard, India's pioneering scuba diving yacht in the Andaman Islands, has tied up with the premier photography training institute "Light & Life Academy" from Ooty to introduce underwater photography to their students.
Under this partnership, seven photography students from the academy will first learn scuba diving by doing the international PADI course. Once they are certified divers and have mastered a few basic skills including buoyancy control, they will then be introduced to the underwater photography equipment including cameras, special housing, lights etc. Finally they will learn the basics of composing and clicking stunning underwater images through sophisticated techniques. For example, red color is quickly absorbed by the water so you need to use some filters and know what maximum distance you can keep from your subject. The program will also include some "naturalist" awareness so that the students can identify and understand the marine life that they will come across. Finally, the students will be taught to be responsible divers & photographers who do not damage the reef or the ocean environment in any way.
The students have already received part of their training in Ooty and will complete the rest of the course on a six-night trip to the southern Andaman Islands with the Infiniti live-aboard. They can look forward to getting close to exotic marine life such as sharks, rays, turtles, dolphins, seahorses, octopus, assorted colorful tropical fish, hard & soft coral, ship-wrecks and more in clear waters with high visibility.
Sunil Bakshi, founder & CEO of the Infiniti live-aboard said," We are looking forward to this unique underwater photography workshop for the eager students from Light & Life Academy. It will be an incredible learning experience for them, as they will learn to dive to PADI international standards, receive the global diver certification, learn all about the stunning underwater world and receive high quality training in specialized underwater photography. The Infiniti has always aimed to be an educationally aware dive travel vessel and this initiative will support that aim. After this training, they can dive and photograph anywhere in the world "